8 Trading-Card-Size Designs to Inspire You
Cornwall is Celtic too!
I've created a lot of images for Scotland, Ireland and even Wales, but have neglected Cornwall and do apologize for this oversight. So now I've got some for you who have Cornish heritage, and for those of you who simply like this fascinating corner of the United Kingdom.
This post is about some of the stamping play I've been doing with the new group of Cornish theme stamps.
I hope you get some fun ideas here.
The stamps are available from the Etsy Shop as clear polymer only.
Miner's Mainstay
The Pasty was a miners daily meal. Read the fun story in the newsletter or the next blog.
Miner is embossed with black, the Pastys with Distress ink, all masked, cosmetic sponges used to dab on Distress inks, remove masks
Mists of Time
Black embossing for the mine ruin, then dark gray Distress ink for the miner and pasty. I used cosmetic sponges to dab and swirl Distress inks to create a misty, ghostly effect.
Life Light
Using a reverse mask of the miner, I used a cosmetic sponge and white embossing ink rubbed onto dark blue cardstock, then heat-set the ink with NO embossing powder. Then I embossed with black powder the miner, being careful to wipe off the tip of the candle part of the image first. I created a little more of a cloud of light with the white ink, heat-set it, then used colored pencils to add to the effect. Black dye ink stroked on the bottom of the card adds depth.
Light of the Past
Simple embossing with black ink & powder, and lots of colored pencils.
Cornish Holed Stone – Mên-an-Tol
All Trading Card size.
Starting with dark blue card stock, emboss the stones with clear ink and powder. The moon stamp is from Stampscapes. Then I simply used colored pencils to play with the lighting effects.
The third one is purple embossing ink and colored pencils.
Night Magic – Men-an-Tol
Mystic Moon – Men-an-Tol
Solstice Shadows – Men-an-Tol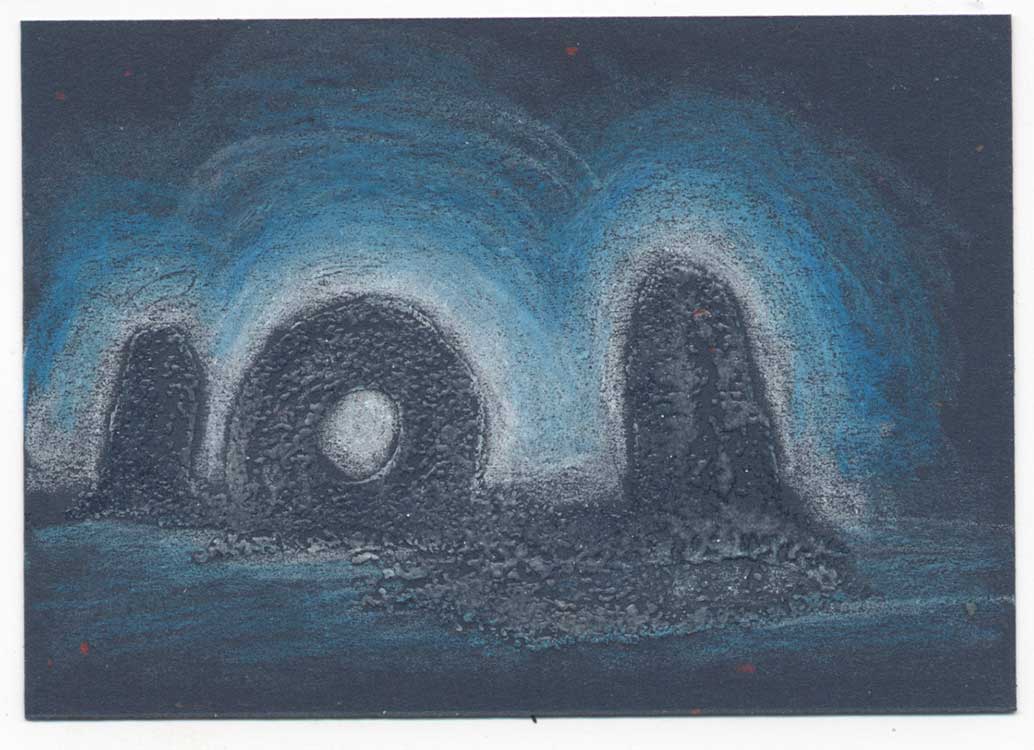 Cornwall Collage
Just the holed stone of Mên-an-Tol with a mine ruin you can see to this day. Notice the tiny person to give it scale.  Images embossed in black, then colored with pencils, finally mask the image and over-stamp with the Knot-work square.