Have you ever thought of hiring an artist before?
Is that a novel idea?
Wouldn't it be fun to have a rubber stamp of your dog, cat, rabbit, horse, hamster, bird, dragon, etc.
How about those antique photographs of your ancestors, or the old homestead in the hills of Kentucky.
Maybe you've captured the cutest baby picture ever, and would absolutely LOVE to be able to stamp that darling face on everything (or at least all the announcement cards).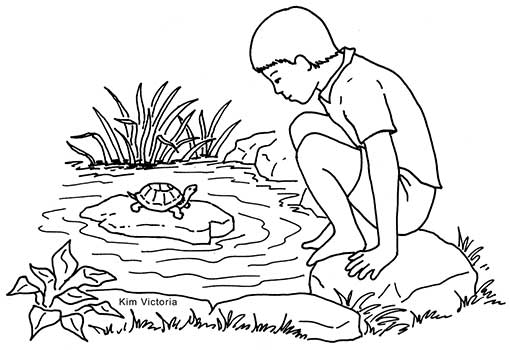 That rubber stamp doesn't exist – – – or can it?
All those wonderful people, places, pets, and things (your old teddy bear or vintage doll?) that you would thoroughly enjoy having a stamp of; but, of course, doesn't exist.
AHA!
It occurred to me that the one thing missing from the rubber stamp world is someone who knows how to turn a photograph into a rubber stamp design – that is personally just yours, no one else's.
I do that – – – and well.
Computers are great BUT they don't have discernment
The problem with trying to use a computer program to adjust a photo into black & white artwork, suitable for making into a rubber stamp, is that NO computer program exists that can discern what's important in a photo and what is not. I've tried using programs, and none of them do the job. A computer program will see that old tear in the photo, or the distracting background as just as important, if not more important, than the subject you really want. For discernment you need eyes, a brain, and know-how.
And that's when you need to hire an artist.
(Computers don't always scale pictures properly either. This image is squished and the web design program won't let me change it.)
Why would you want a custom art stamp?
Yes, a custom stamp costs considerably more than a mass-produced design. I have to earn a reasonable hourly wage, too, after all.
But think of the advantages:
•    You have a rubber stamp that means something personal to you.
•    This is your exclusive design, no one else has it.
•    Stamps can last for decades, and make thousands of impressions. What other kind of fine art can claim that?
•    This is one stamp that won't languish forgotten in a drawer – it will get used a lot!
•    This is the perfect unique gift for that special stamper you know
I am classically trained in the fine arts, AND love crafting, AND have been designing and making rubber stamps for over 22 years. I know how to do this.
The initial response to my offer of
Pet Portrait Rubber Stamps has been great:
'Kim was such a pleasure to work with, and I love my stamp!! She completely captured my dog's personality for a stamp my fiance and I will be using for some of the decorations at our wedding (and surely for more projects in the future). The stamp is very high quality, and it was clear that Kim took the time to understand exactly what I wanted and to get a real sense of Jane so that her spirit would come through the artwork. I couldn't have asked for a better experience.'
'You have done an absolutely amazing job! Your attention to detail is impeccable! I showed my mom and she was absolutely in love with it as well! I just appreciate all of your hard work and effort!'
BTW – I also do fine art oil paintings from photographs.
Soooooooooo,
If this sounds interesting to you – here are some links to know more:
•    start a conversation with your idea, no obligation, or
•    visit my Etsy shop to view one of the Custom Stamp listings, or
•    read more about custom stamps above in this blog, or
•    go to my artist web site
This is a new kind of service, one-of-a-kind image-art you can use again and again.
I don't make a lot of money doing this, but it is gratifying and fun to help people enjoy their creativity more.
I love doing this kind of personal work. I believe art should be meaningful for the person living with it or using it, and this is another way I can provide that meaning.
I look forward to hearing from you.
Happy stamping!
Kim